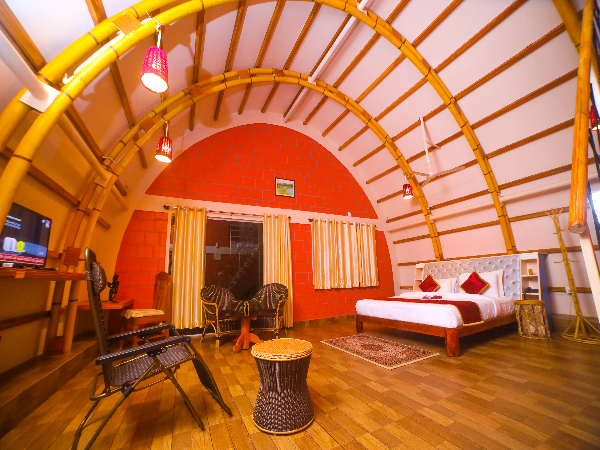 Comfortable Accommodation in Sakleshpur
When it comes to comfortable accommodation & the luxury amenities that you need, one can prefer Mookanana Resort as one of the best resorts in Sakleshpur. Somehow, we have tried enough to fade the borderline between civilization & wilderness with our best accommodation & gratifying hospitality.
If you have a heart for a hill view balcony or windows, swimming pool nothing can beat Mookanana Resort in terms of stylish architecture, innovative interior, and luxurious accommodation at a very affordable price. The airy rooms, furnished terraces, cottages, featuring high wood ceilings, outdoor swimming pool with landscape nature's lush green view of this resort will make your check-in here again for sure.
Jungle Resorts Retreat
We try to create a balance between a jungle retreat and homestay by providing you all of the comforts that you used to get at your home. The treats of wilderness and enchanting views magically appears just after opening the window or keep one step out of your cozy room to walk around.
A short overview of Sakleshpur: Do you know that a lot of tourists even call Sakleshpur or Sakleshpura as 'Poor Man's Ooty'? The waterfalls, different types of tall trees, tea garden, fresh coffee, and spice plantation will greet your sight with every single bend that you will take. Yes, most of the people love this beautiful hill station for its breathtaking surroundings, serene beauty, mesmerizing hill view, farm area, and of course for some adventure activities like trekking, jungle safari, etc.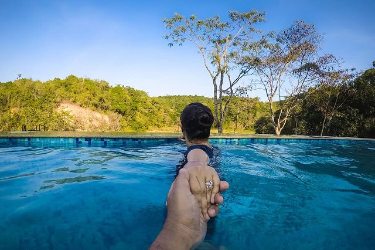 Spend your days at Sakleshpur resort in the lap of Sakleshpur
Tourist visit our hotel in sakleshpur to get rid of the monotonous life and immerse themself in the greenery around the property. Our resort is just 5km away form coorg & this would be the best place to refresh your mind and cleanse all the stress caused by the hectic schedule during working days.
Drape yourself in cotton robes after a revitalizing rain shower. Relax in the shower, in stone-clad bathrooms 590 square feet of elegantly styled space, Rooms that exude an air of relaxed exuberance. There's so much to do in your room, you won't ever want to leave.
Can's decide how to make you vacation more special?
Well, we have the answer, Mookanana Resorts & Homestay is the ones you can rely upon for a wonderful trip to Sakleshpur. You can discover the tourist spots better if you are comfortable with the place you are staying during the trip or a corporate team outing. Our resorts near sakleshpur assure you with all the luxury amenities you can ask for.
The best resorts in sakleshpur provide you facilities like infinity pool, luxurious bed, hot water, shower, laundry facilities, restaurant facilities, swimming pool etc. We leave no stone unturned to make sure that the guests can experience the best and relaxing vacation, be it Sakleshpur trek or be it a family vacation or honeymoon days in resorts near Chikmagalur.
Barely, a five hours drive from Bangalore the Mookanana Resorts is a luxurious property midst a coffee estate. This pet-friendly Mookanana resort is recommended as one of the top resorts in Sakleshpur by the valued customers, travel vloggers & tourists. We have 12 cozy rooms that look like cottages.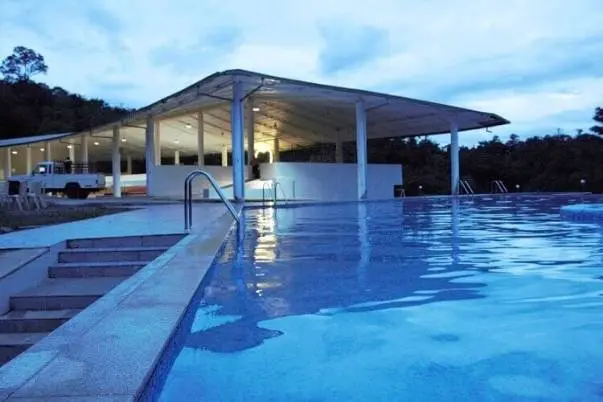 Resorts near Coorg [Madikeri] with Infinity Pool
People always prefer resorts with a swimming pool in this lush green area. Keeping that in mind our Sakleshpur resort offering the finest room with a private pool too along this resort guarantees first-class hospitality for each guest.
The service of the resort is prompt. We have wide range services available in our resort like Kids club, conference rooms, luggage storage, self-laundry, coffee bar, dry cleaning, 24 hours reception, WiFi, free parking. There is also a shuttle which runs from the resort to going to Airport. This Sakleshpur resorts price is also reasonable.