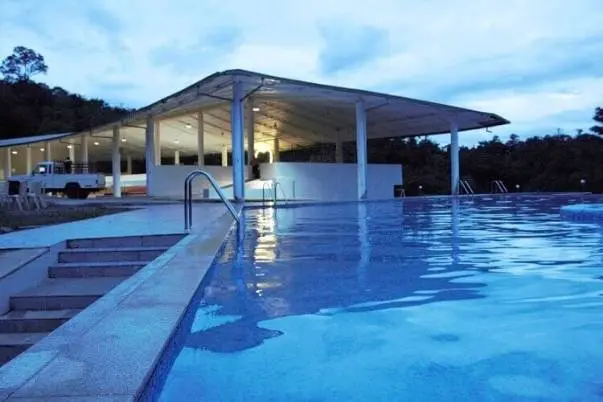 Resort near Bisle Ghat View Point
Explore the Area: Bisle Ghat or the Bisle Forest Reserve is a very well-known sanctuary amidst the Western Ghats. It is also the accommodation of an array of flora and fauna. From the Bisle Betta viewpoint, one will be able to get a beautiful panoramic view of the adjacent mountain ranges.
There are several homestays in the Bisle Ghat and all these are the pathway of the adventurous mountain ranges of the nearest 3 districts. And these are Kumara Parvatha of the Dakshina Kannada district, Patta Betta of Hassan district, and Pushpagiri Betta of Kodagu district.
Tourist Attraction:
Here we will give you an idea about the tourist spots near Bisle which you must not miss when you are visiting this beautiful little village, Let's check-
Mookana Mane Waterfalls (39 min 23.9 km via Bisle Ghat Rd)
Beauty Point / Bisle View Point (40 min 25 km via Bisle Ghat Rd)
Kaginahare View Point (1 hr 30 min 50.2 km via SH107)
Yedukumeri Railway Trek (1 hr 17 min 44.4 km via SH107)
Manjarabad Fort (1 hr 6 min 43.4 km)
Bisle Ghat as known as Bisle Reserve Forest is a prominent sanctuary of Western Ghats. It is a shelter to the array of flora and fauna. Here you will find the famous viewpoint named Bisle Betta and from here you will get to see the panoramic view of the immediate mountain ranges. Homestays in Bisle Ghat are the gateway from where you can start your adventurous journey. You can witness the mesmerizing mountain ranges of the nearest 3 districts and these are Pushpagiri Betta of Kodagu district, Patta Betta of Hassan district, and Kumara Parvatha of Dakshina Kannada district.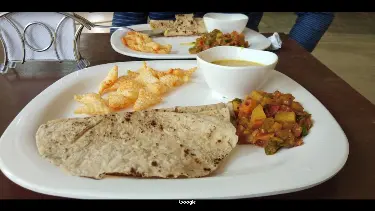 Traditional Malnad Style
If you reach Bisle village once, it will never disappoint you with its lip-smacking traditional Malnad cuisine and dishes. People who are non-vegetarian will get the mouth-watering dishes of pork, fish, and meat.
Except these, they also provide the popular local dishes like Akki roti that is Rice chapattis, huge varieties of pattus (steamed food dish), various pork preparations, Pulavs, Idli, Shavige, and Kadabu is generally for all the guests whether they are vegetarian or non-vegetarian.
Ideal Time to Visit Bisle ViewPoint
In between September to March, you can visit Bisle as it is the ideal time to visit this place. But the thing is that Sakleshpur will never disappoint you as the weather of the place remains pleasant throughout the year.
The weather is extremely suitable and is absolutely perfect for visiting the attractions of the local area. But in the time of summer, the trekkers or the tourists can feel humid or face dryness.
Distance From Resort to Bisle Ghat View Point?
The public transport connection between Bisle is very poor. So, it will be best to take the local bus services. The local buses leave at an interval of 30 minutes. Or else you can book a taxi or private car from the main bus stand of Sakleshpur or the Shanivara sante.
In Bisle, the public transport is connected. So, it's better you take the local buses or hire a vehicle from resort. These buses leave from the main bus stand of Sakleshpur and Shanivara-Sante every half-an-hour.
Mookanana Bisle Ghat Resort / Hotel / Homestay - Bisle
Brew yourself with some luxury and move towards the Bisle Ghat & Forest. It is an ideal getaway & Mookanana is among the supreme luxury resorts in Sakleshpur. It is poised to be featured among the best luxury resorts & homestay in Bisle. This resort near Bisle Ghat is spread over 50 acres of pristinely wooded forest along with Mookanana Mane waterfalls, lakes, mists, early morning dew, bird chirps, and cicadas as well as a deep hue of lush green adjoined towards the Bisle Ghat Forest.
Rooms: Our bisle ghat resort offers Mallige Cottages with 3 options. From those options, you can choose the rooms only, or you can choose the rooms including breakfast, otherwise, you can opt for the rooms with all the meals that are breakfast, lunch, and dinner.
Amenities:
Room Size: 854 sq.ft
Bed Type: Queen Bed
24-hour Room Service
Electric Kettle
Iron/Ironing Board
Reading Lamp
Balcony
Mineral Water
Daily Housekeeping
Bathroom
Closet
Chair
Shower
Toiletries
Western Toilet Seat
Dustbins
Hot & Cold Water
Fan
Cable TV / Satelite Channels
Except these, the resort also offers amenities like Free Parking, Kids Play Area, Lawn, Bar. They also maintain safety and hygiene properly. Along with these, all the basic facilities like Free Parking (Free - Onsite), Air Conditioning (Room controlled), Infinity Pool (Common Pool, Infinity Pool, Kids Pool), Power Backup, Wi-Fi, Laundry Service, LAN, Intercom, Ironing Service, Newspaper, Public Restrooms, Umbrellas, Attached Bathrooms are also provided by the resort.